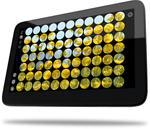 First Impressions
Staring me in the face was this neat little glossy faced box of tricks! It was a little smaller than I had imagined, but it wasn't too small.....perhaps.
You can tell that it has been hand made as the screen doesn't sit perfectly in the surrounding bezel, and sometimes when handling the slate, the screen tends to move away from the main unit. This has something to do with why the accuracy with the screen is not 100%. Obviously we can look forward to a much better build with the final production units.
It was a little heavier than I first thought, but only because I really didn't know what to expect. Now that I've had it and used it for a few days I don't even notice the weight, which really isn't that much. (And is even 144 grams heavier that the FP (final production) unit).

About the ExoPC
The fan is almost constantly on, which is a bit of a bummer, but we know that - that will be sorted in the final production units, and will only come on when needed; however, the unit does get quite hot when on charge (naturally), I only hope that the fan that is used in the FP units is more powerful but quieter.
The ports are positioned perfectly, I wouldn't want them anywhere else on the unit. 2 x USB should be ample for most people, I don't think I ever used both in one go. The HDMI was very easy to use, as you can see in my video, and it was a crystal clear picture, no jumping, jittering and the colours were perfect. You could easily use this to extend the desktop on the unit to another monitor/HD TV. I suppose if you have a main desk but are out an about a lot, if you dock the unit to the ExoPC official dock, with a USB keyboard & mouse already connected, all you would have to do is connect up your HD monitor to the HDMI and you have yourself a desktop PC(!) ready to transform to a mobile device when called in to action.
The ExoPC does not in any way feel cheap! If anything because of the weight, (again its not too heavy), it feels solid as a rock! Like you could drop it out from under your arm and it would just bounce on the floor (not tested!) and be fine.
Even though its not the FP screen, the one in the prototype is very good........ from certain angles! When you get those angles right the screen is bright, vivid and very clear & crisp & not pixelated at all, all the corners are sharp and the rounded edges smooth, just what you want from an LCD screen.